Sharing Our Knowledge Of Marketing
XLab's CEO, Katsuyuki Fuji has experienced bankruptcy in the past. Now he acknowledges that at the time his ability in establishing a solid business model, marketing, and management as a business owner was not up to standard. Because of this, he understands the importance and difficulties of effective marketing and customer acquisition more than anyone.
What is the XLab Training Style?
First, look at this business model comparison
As of 2015, XLab is estimating the yearly turnover to reach 500 million Yen for our 3rd quarter. When including subsidiary companies in our group we are estimating to reach 10 billion Yen. With only a team of 10 or so members, we have been entrusted with 800 to 900 million Yen of advertising investments. The following is a comparison between the CEO's former company and current company (XLab).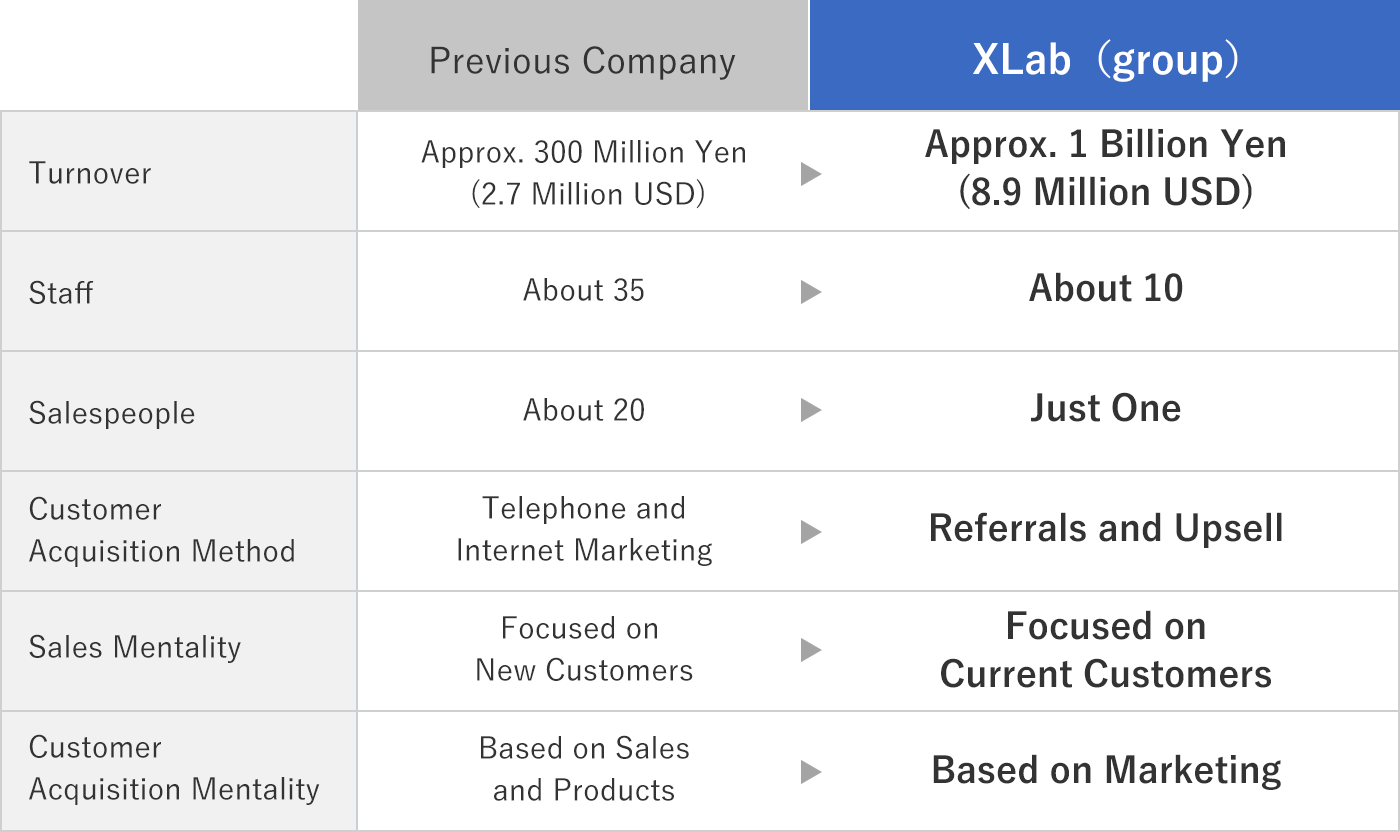 Although the above figures compare some noteworthy figures, we performed an overhaul of our business model.
Do you want the recipe to how XLab grew so quickly?
Our comprehensive digital marketing training was developed after receiving appraisal and support from rival advertisement agencies such as the GMO group. In order to optimize and improve the advertisement industry we wanted to reach out and educate entrepreneurs, advertisement agencies, sales staff, and marketing staff.
Furthermore, the number of advertising agencies that specialize in direct response marketing in Japan is still very scarce. Therefore we want to demonstrate our proven techniques to CEOs, entrepreneurs, and marketers who have the motivation and will to learn.
Ok, how exactly do we get training?
We offer two methods of training. One is through our free email newsletter and the other is paid seminars. Notifications and invitations to our seminars are generally sent out in our email newsletter so please make sure to subscribe as a start.
Depending on the time of year and needs of our clients, we offer the following courses in Basic and Advanced levels throughout the year. Once again, we will make notifications through our email newsletter so don't forget to sign up.